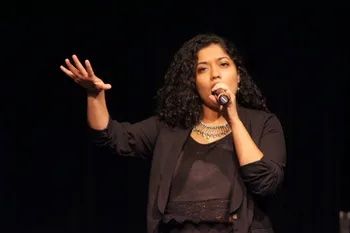 Selecting Pop Solo Rep: tips and thoughts for auditions 
It is always best to work with a vocal coach or someone with judging/casting experience when selecting your audition piece, but if you need to select repertoire on your own, try and keep the following things in mind: 
- You DO NOT have to love your audition song BUT YOU DO have to connect with the mood/groove/lyrics of your audition piece. 
-If you have already selected a song, check that it meets your vocal ability and the range you are auditioning for. For example, if you are auditioning for a spot in the alto section of an a cappella group, select a song that displays your low notes. (range of melody, phrase length, style, etc.) 
-Try to help define your strengths (range, tone, stage presence, etc.) and find songs that showcase your best qualities. 
-If you find a song that has great range & style but it is just a bit too low/high, change the key of the track. 
This site allows you to purchase up to 2 half steps higher or lower than the original!
This software allows you to transpose keys and change tempo of a song without distortion!
-Singers that are thought of as "off limits" (adele, christina aguilera, whitney houston, etc.) aren't necessarily so...it all depends on the song (they all have good and not-so-good choices) Try to avoid the signature tunes that people equate with them. 
-One-hit-wonder songs are great because people recognize them and they probably have a great melody with catchy chorus. 
-Indie/punk/alternative Artists don't typically go over well unless the song is a perfect fit (I love Regina Spektor as much as you do but singing this style of song will not translate in a short audition) *unless the audition is for an alternative Indie sound 
-Finding Cover versions of older hits that new indie/pop artists sing help students find well known standards with a newer twist. Most of these karaoke tracks can be found. (watch youtube covers by top artists) 
-Many of the electronic pop songs have acoustic karaoke versions available for purchase on itunes. This is great if you have a smaller voice and lovely tone but just can't cut through the thick backing of a rock band track or if you just prefer to show a softer side to a heavy tune. 
-While we all love a good youtube karaoke track, it is best to purchase a track or download a track to your phone for the audition. this will help avoid those embarrassing ads and will also be great for audition spaces with little wifi or data signal!